Posted Feb 4, 2014
TELE-PROMPTER and EAR-PROMPTER WORKSHOP
All Day Saturday, February 8th from 9:00am to 4:00pm

Nailing the perfect presentation can be an exercise in frustration. Many on–camera actors, corporate professionals and business owners waste valuable hours not getting it right. The teleprompter and ear prompter are valuable tools, Both in the studio and on location. By using a prompter you can assure that your message is professionally delivered, time after time, giving you a more polished broadcast look.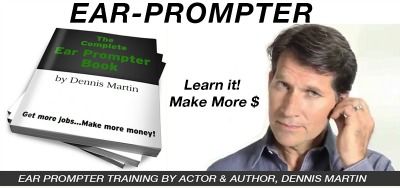 Ear Prompter Training by Actor and Author, Dennis Martin
Join Alan, Joe and Dennis in this one day "PROMPTER" workshop to develop the skills that will make you a more in demand actor than you ever thought possible!
Morning session:
Teleprompter with Alan Dysert and Joe Loesch
Afternoon session:
Ear prompter with Dennis Martin
$225 – Saturday, February 8th, 9 to 4 (1 hour Dutch lunch break)